New OneRay-RT

Animation and real-time 3D Rendering never seen before.

OneRay-RT

Get ready to meet the most INNOVATIVE Solution for Construction Professionals. >
Simply Spectacular Animation
Present your Projects like never before.
OneRay-RT is the new software devised for the creation of impressive 3D Rendering in real time. The best tool for creating videos, rendering and live demonstrations thanks to its spectacular processing speed. OneRay-RT offers excellent graphics combined to a fast and efficient workflow: so that you will be able to save time and money.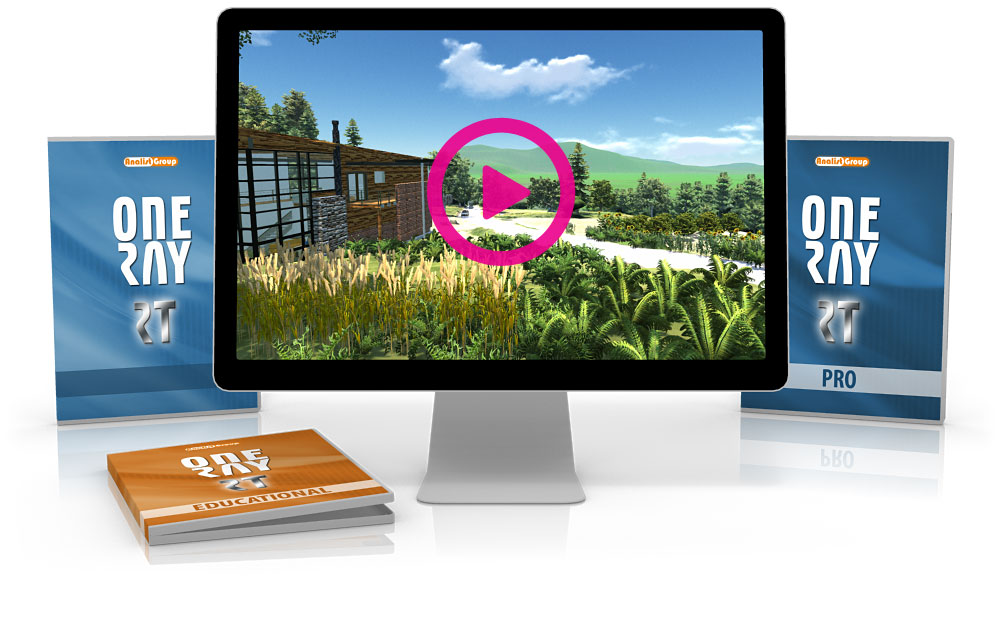 Greatest Power to your Pix4D
Spectacular Animation to your DTM.
Provide animation to your Digital Terrain Models (DTM) created with Pix4Dmapper in just a few minutes. Present your work in a most efficient and professional setting.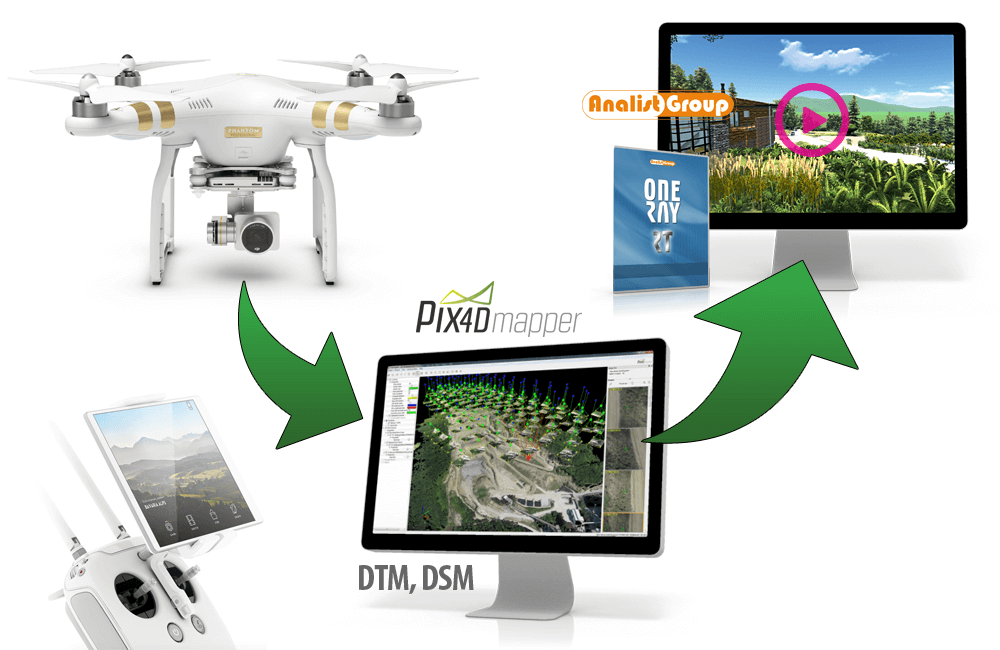 A Complete Workflow
Analist + OneRay-RT + Pix4Dmapper.
Oneray-RT+Analist 2016 CLOUD: download a Google Earth Map directly into Analist 2016 CLOUD with just 1 click, export it for OneRay-RT. Add plants, trees, houses, objects, modify the land and perform amazing animation.
Oneray-RT+DRONE+Pix4Dmapper: fly with your DRONE, import the photos into Pix4Dmapper and automatically generate your three-dimensional model. Import your model into OneRay-RT and add plants, trees, houses, objects, modify the land and perform amazing animation.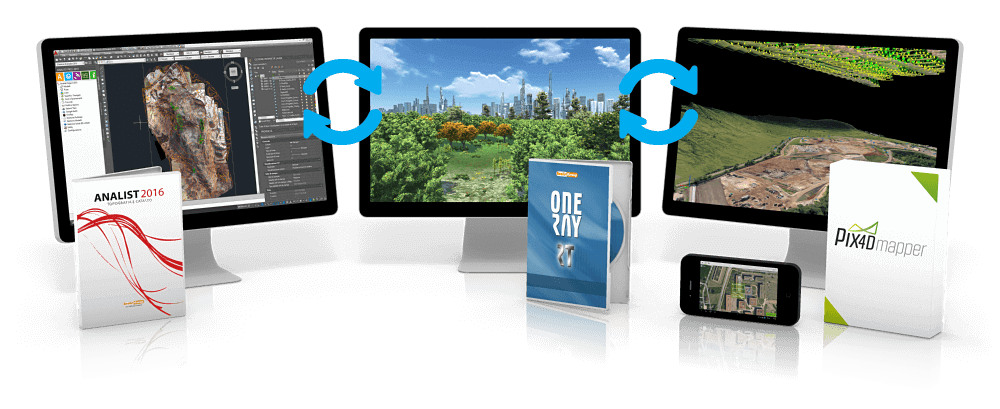 Ideal for Quarries
Spectalur results like never before.
Quarry Survey and Redevelopment represents a great business opportunity. The Complete and definite Solution in 3 easy steps:
1. Generate the 3D model from the photos shot with the DRONE with Pix4Dmapper
2. Import the Point Cloud into Analist 2016 CLOUD to create Cross Profiles and Sections, Contour Lines etc.
3. Create real-time animations on your model with OneRay-RT.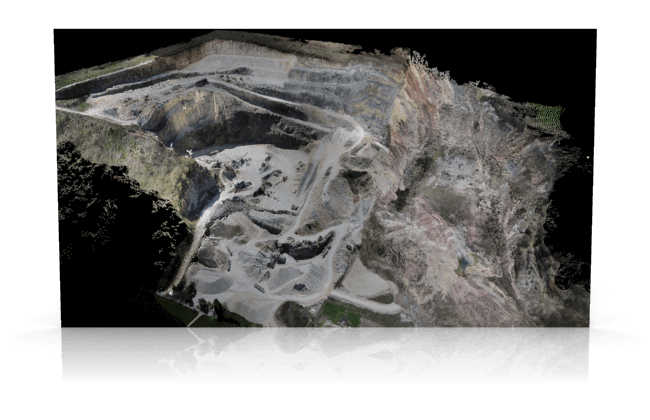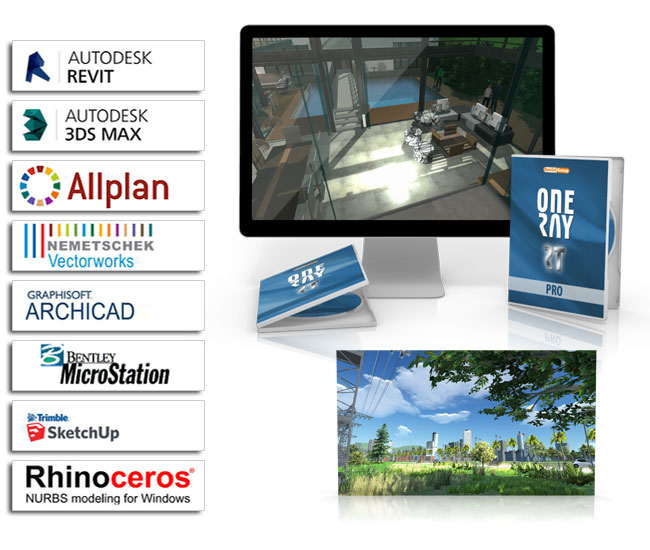 Absolutely perfect with any CAD Software
Your project comes to life.
OneRay-RT has been devised to be completely compatible with your drawings, whatever software you use to make them with. Create your project with Revit, 3DS Max, AllPlan, ArchiCAD, SketchUp, etc.. OneRay-RT imports all obj. format files.
Workflow example:
Import your .obj Project.

Set the environment by inserting plants, trees, grass, etc.

Set the sun, the sky, the clouds, the land types, etc.

Add light.

Add and animate all the objects you want.

Create your presentation video!
Functionalities
Extraordinary results.

Natural Drawings
Redevelop abandoned quarries, rocky ridges in a rich natural context, with trees, grass, moving vehicles, animated characters, the sky and different land types.

Professional Images and Videos
Create high-fidelity HD Images and impressive high quality Videos very fast and it is extremely simple to master.

Full Integrated Library
Liven up your scenes with a large collection of animated 3D models such as: plants, people, vehicles.

Customize Land and Materials
Customize the land with hills, mountains, plains, and access an internal Archive of materials to create new landscapes.
As fast as lightning
Video and Rendering in no time.
With OneRay-RT you won't have to wait hours, days or weeks anymore to enjoy fascinating and electrifying Renderings. You will produce spectacular HD Videos HD in no time with an absolutely astonishing positive impact on all your customers.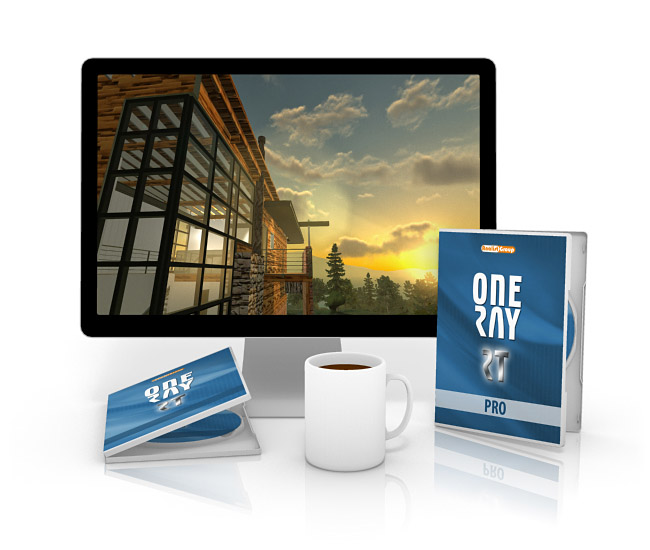 Dreamlike sceneries and settings
Your customers will be enthusiastic with your Project. And with you.
With OneRay-RT it will be great to expolit the advantage of a GPU based on a 3D Interface which enables you to edit the scenes in real time. You will bw able to immediately access iper realistic sceneries with moving water, tree branches in the wind, clouds moving, animated objects and people… It is all very simple: you will learn to use OneRay-RT in just a few hours.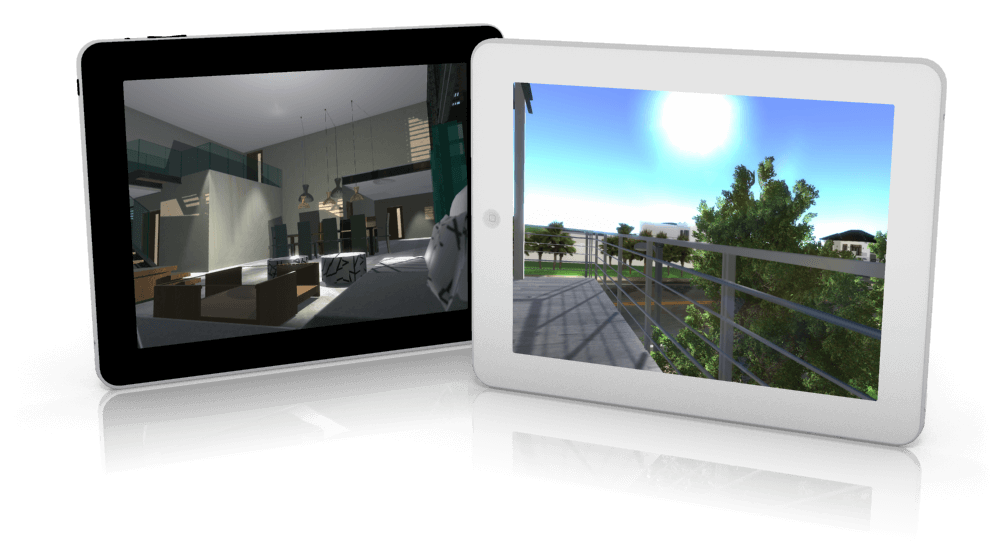 Breathtaking Videos and Renderings
Excite everyone with great impact Renderings and spectacular HD Videos.
Thanks to the vast amount of materials and objects included in the OneRay-RT library you will create breathtaking Renderings in just a few instants. Everything becomes more simple with so many materials of the highest quality such as laminate flooring, parquet, brick walls, many more customizable types of materials with hundreds of ready to use models. Trees which move to the breeze, cars racing down the road, people moving, buildings, urban landscapes and much more.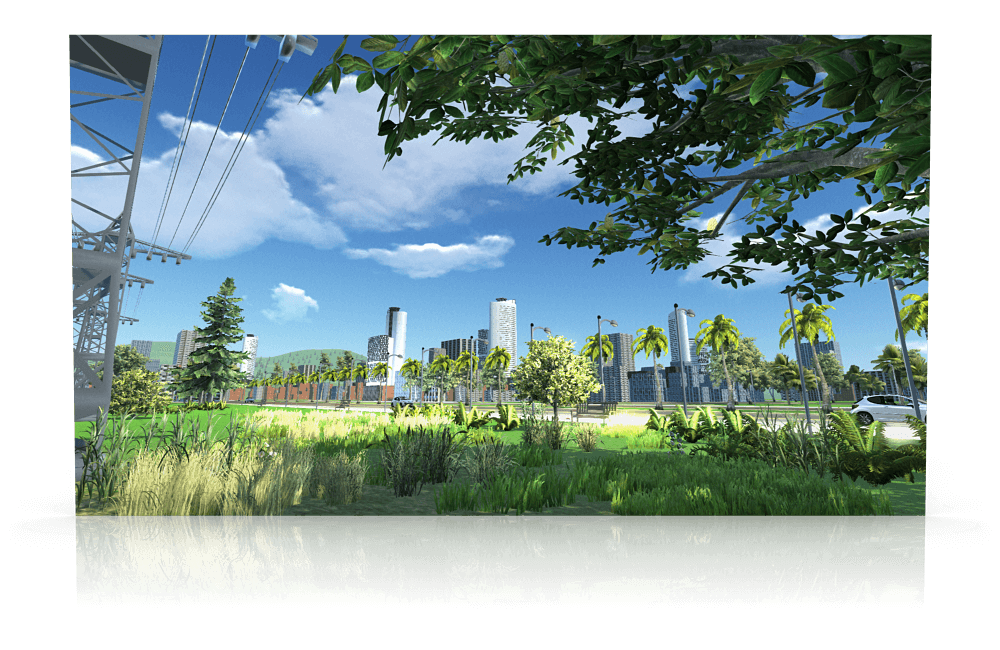 Comparison Table
OneRay-RT Lite vs PRO.
Choose between OneRay-RT Lite and OneRay-RT PRO.
| | | |
| --- | --- | --- |
| Functions | OneRay-RT LITE | OneRay-RT PRO |
| TERRAIN EDITOR | | |
| Insert Terrain Texture | | |
| Insert/ Remove Grass | | |
| Increase Terrain Height | | |
| Dig | | |
| Smooth | | |
| Flatten | | |
| Set Brush Diameter | | |
| SKY SETTINGS | | |
| Time Settings (Night and Day) | | |
| Solar Coordinates | | |
| Sun Lighting Settings | | |
| Fog Settings | | |
| Moon Lighting Settings | | |
| Nighttime Sky Settings | | |
| Climate Settings (Clouds) | | |
| Apply Sun Flare Reflex | | |
| MATERIALS | | |
| Apply Materials to Objects | | |
| Material Catalogue | | |
| Edit Materials | | |
| Create new Materials | | |
| Apply new Textures to Materials | | |
| ANIMATION | | |
| Camera Animation | | |
| Character Animation | | |
| Vehicle Animation | | |
| Animation Speed Settings | | |
| Animation Itinerary Settings | | |
| MODEL IMPORTATION | | |
| Import Pix4Dmapper Models | | |
| Import Obj Models | | |
| Importation Settings | | |
| ASSETS | | |
| Asset Categories | | |
| Move / Rotate / Scale / Clone Assets | | |
| Single and Multiple Selection | | |
| Advanced Settings | | |
| SpeedTree Library Included | | |
| LIGHTING | | |
| Point Light and Spot Light | | |
| Light Settings (Colour, ray, intensity) | | |
| Object Settings (Move/Rotate/Clone) | | |
| SAVING AND EXPORTATION | | |
| Save photo (PNG) | | |
| Save video (MP4, AVI, FLV, MPG) | | |
| Save scenes (ONERT) | | |
| OTHER FUNCTIONS | | |
| Distance Measurement | | |
| Object Grid | | |
| ADVANCED GRAPHICS | | |
| Video Settings | | |
| Global Lighting | – | |
| Effects | – | |