Traffic Accident Reconstruction with Survey Quality Accuracy
---
Crime Scene Investigation – 3D Modeling of the scene with all details
---
Add FLIR to your DJI Phantom 3 or 4 with our b-mobile VUE bracket
---
Search and Rescue using IR cameras mounted on a Phantom 3, or 4
---
CLICK HERE TO VIEW SOME OF OUR 3D MODELS.  ONCE YOU ARE ON THE 3D VIEWING PAGE, CLICK ON THE BOTTOM RIGHT CORNER OF ANY IMAGE TO EXPAND TO FULL SCREEN. USE THE LEFT & RIGHT MOUSE KEYS, AS WELL AS THE SCROLL WHEEL TO MOVE AROUND.

The GRADD RGB+IR Solution for DJI Phantom 3, or 4 provides you with an affordable UAV solution that can be used anytime, anywhere, and for any purpose!  Call 702-879-9100 or email info@gradd.co to inquire!
We provide the hardware, software, training, and best practices.
Click here to download the pdf version of GRADD UAS, Technology,
Photogrammetry & Software Solutions for Law Enforcement, Fire, EMS!Have other questions, or need more information? Please complete the form below, and we will be happy to help!

Traffic Accident Investigation: Timely. Accurate. Fast. Simple!
The GRADD-Analist Group Solution for vehicle traffic accident investigation and reconstruction provides a full range of aerial intelligence to reduce the time and resources it takes to collect data, clear the site and get the roadway open again.
It allows officers to take measurements at the scene of a complex accident in just a few minutes. This solution set gives accurate, detailed information for the investigation and allows for immediate reopening of the roads.
Watch the Video to see a basic workflow outline…
How the GRADD solution works for Traffic Accident Reconstruction…keep in mind…we support and train you and your team on how to use all the software and hardware you purchase from us.
Once on the accident scene, follow some very basic steps. Our date capture operation is much quicker and far more accurate than traditional methods, allowing for a more rapid reopening of the roadways.
The simple sequence to follow consists of:
Take ground measurements of some permanent control points, using the Leica DISTO S910 laser measurement device.
Conduct a quick UAV flight for the purpose of aerial imagery acquisition.
Perform orthomosaic and 3D model generation (we can also process the images for you at GRADD) form 2D RGB images captured by UAV or DSLR on the ground using Pix4Dmapper.
Then conduct survey quality accurate measurements using Analist 2017 CLOUD.
Study crash dynamics but importing the 3D orthomosaic into our Animation software, OneRay-RT.
1. Take one (or more) ground measurements
A distance meter can be used to measure one distance from point to point as you will see from the photo below. (A Leica S910 Distance Laser meter is suggested, although other comparable instruments may be used).
2. Plan and conduct flight for aerial imagery acquisition
Once the measurement has been taken it is necessary to fly the drone for the image acquisition. It is recommended to plan the automatic flight with the free apps available on mobile devices. The Pix4D Capture App, Map Pilot or DJI Go have proved to be very effective, just to mention a few. The following image shows the Pix4capture App. A two minute, or even less, flight is enough to attain all the relevant information. It is recommended to shoot a sequence of photos with the drone. At this point the data can be transferred to a computer for the processing phase.
To cover a one acre area will require a 2 minute flight for the acquisition of 20 2D photos.

Flight plan created automatically in just a few seconds with the Pix4DCapture App
3. Orthomosaic and 3D model generation in Pix4D
The sequence of pictures acquired from the drone flight are fed into Pix4D, an automatic photogrammetric software, for the creation of a detailed orthomosaic and 3D model of the surveyed area.

Imagery importation to Pix4Dmapper

3D Model obtained with Pix4Dmapper
4. Measurements in Analist
The project created in Pix4D is then transferred to Analist CLOUD which automatically creates a most precise scaled model with the insertion of the measurement obtained with the Leica DISTO S910. At this point you can proceed with all the measurements by simply clicking from point to point to take all the measurements with the highest accuracy. Analist CLOUD is powered by Autodesk and represents a very powerful tool as the level of precision is indisputable and the error margin is zero. It also generates detailed documentation of all measurements available whenever necessary to be used.

Project in Analist

The insertion of the  measurement taken on ground at the scene is essential in order to scale our project. With a click from point to point and inserting the distance the entire project is scaled thus enabling for the acquiring of any distance.

Any distance can be taken just clicking from point to point)
5. 3D Rendering and Animation with OneRay-RT
The project can be animated with OneRay-RT 3D rendering and animation software which shows the animation of the accident for forensic uses. An objective tools for use of all parties involved.
OneRay-RT character Insertion and Animation
The Complete drone solution for Accident Traffic Investigation and Reconstruction includes a DJI Phantom 3 or 4 Drone + Pix4Dmapper + Analist 2016 CLOUD.
Why choose the Solution?
Our testing has shown how in the future, new drone technologies could replace or supplement the traditional accident reconstruction methods, with indisputable advantages in terms of the implementation of sources of evidence that can be acquired in addition to greatly speeding up the survey and the reconstruction.
Benefits:
Limitless number of measurements can be taken
With the insertion of the distance taken on the ground at the scene it is possible to attain any distance within the project.
Drastic reduction in accident reconstruction time
The reconstruction of the accident area occurs in a very short time, as the operational steps are simple and extremely safe for all those involved.
Reduction of risk for people involved and motorists
The speed in the gathering data for reconstruction grants a considerable reduction in the risk for the safety of officers at work on the scene, as well as the motorists involved in the accident.
Another great advantage is that officers can open roadways within a short time from the occurrence of accident.
Data Acquisition and Immediate Documentation
Data Acquisition and immediate documentation with videos (photographic surveys), planimetric surveys in 2D and 3D with significant implementation of technical details.
The margin of error is very close to ZERO when using all the the software and hardware tools in our solution set. Our software, and technology solution is most precise and reliable.
Objectivity of the Reconstruction
The new technology provides a tool for all parties involved of absolute objectivity with no margin of error.
Always Available in Digital form
With the our solution you can generate a 3D (three-dimensional) digital model which can be used at any time by all parties involved in investigating the accident. The data acquired therefore becomes essential, objective and incontestable.
Our solution has a very low cost, and is accessible to everyone. It includes all the necessary tools and equipment, and we also provide the software for post-flight data analysis. And we are also available to provide one-time or on-going training to provide your team with the latest tools and information.
Easy to use: perfect to use
Once you master the photo shooting technique with our Training course, carrying out  the measurements and generating the report will become more intuitive.
 Analist 2017 SCREENSHOT

GRADD UAS, Technology, Photogrammetry & Software Solutions for Law Enforcement
Click here to download pdf version of this page!

Contact us today at 702-879-9100

We have put together a complete turnkey solution that includes the necessary photogrammetry software, UAS, hardware, and technology tools for a law enforcement agency to quickly and affordably incorporate it into their current operations for the purpose of crime scene data collection, traffic accident reconstruction, and search and rescue operations.
Analist 2017 Cloud
Our Analist 2017 is a Professional Autodesk Licensed CAD software that provides you with the power and accuracy to analyze traffic accident data and to conduct distance, area, and angle measurements, including in 3D with our Analist Cloud Explorer tool. Analist 2017 creates cross sections and profiles, plus contour lines and orthomosaics. Analist is an advanced software tool that imports processed images from Pix4Dmapper and also imports other data from:
Ground Total Stations
DISTO S910 Laser
GPS
Google Earth
LiDAR, and more!
Analist 2017 Cloud is the most powerful software tool for generating accurate surveys from data captured from flights with UAVs.
Leica DISTO S910
The Leica DISTO™ S910 is the World's first laser distance meter with the revolutionary P2P Technology, and it captures measurements in CAD format (DXF).
Pix4Dmapper
Pix4Dmapper software enables you to convert photos taken with a UAV into point clouds, process the imagery to create orthomosaics and digital terrain models, and export the processed files to Analist 2017 for further analysis.
One UAV, Many Uses!
We have devised a complete solution including a professional DJI Phantom 4 UAV with its powerful onboard camera, plus our proprietary b-mobile VUE kit, a FLIR VUE Pro 640 IR camera, and the necessary software to process the acquired images.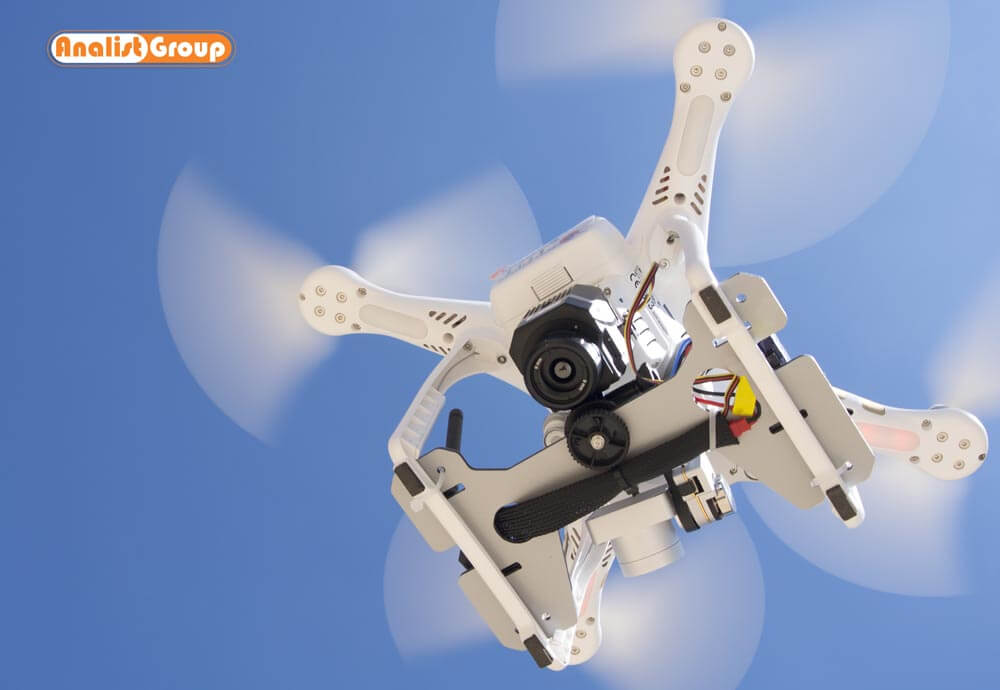 The Complete Solution for a professional thermographic drone platform using a Phantom 2, 3, or 4.
The b-mobile VUE kit is the most affordable and versatile tool on the market. This kit enables you to seamlessly integrate the DJI Phantom UAV and the FLIR VUE Pro 640 Thermal camera.
This solution allows you to keep the original camera and gimbal that comes with the Phantom (and not void the factory warranty), while adding the professional power of the FLIR VUE Pro 640 camera. Use our innovative solution to perform search and rescue, protection, safety and security operations, firefighting applications.
This solution provides you with most affordable professional IR solution for the DJI Phantom 2, 3, or 4.
This Complete Solution includes:
DJI Phantom 4 UAV
b-mobile VUE mount
FLIR VUE Pro 640
Monitor for data transmission
TURNKEY UAS SOLUTION
Have your own drone? No problem, we also offer the most advanced software and associated training for analyzing data captured by the IR, RGB, or multispectral cameras.
Contact us today for more information702-879-9100 or info@gradd.co

Our Turnkey Law Enforcement Solution Includes:

DJI Phantom 4
3 Extra Batteries
Professional Case
FLIR VUE Pro 640
b-mobile VUE Kit
Leica DISTO S910 Pro Kit
Professional Training
1 Year License of Analist 2017
1 Year License of Pix4Dmapper
Contact us today for more information
702-879-9100 or info@gradd.co