Analist 2017 SCREENSHOT

GRADD UAS, Technology, Photogrammetry & Software Solutions for Law Enforcement
Click here to download pdf version of this page!

 
Contact us today at 702-879-9100

We have put together a complete turnkey solution that includes the necessary photogrammetry software, UAS, hardware, and technology tools for a law enforcement agency to quickly and affordably incorporate it into their current operations for the purpose of crime scene data collection, traffic accident reconstruction, and search and rescue operations.
Analist 2017 Cloud
Our Analist 2017 is a Professional Autodesk Licensed CAD software that provides you with the power and accuracy to analyze traffic accident data and to conduct distance, area, and angle measurements, including in 3D with our Analist Cloud Explorer tool. Analist 2017 creates cross sections and profiles, plus contour lines and orthomosaics. Analist is an advanced software tool that imports processed images from Pix4Dmapper and also imports other data from:
Ground Total Stations
DISTO S910 Laser
GPS
Google Earth
LiDAR, and more!
Analist 2017 Cloud is the most powerful software tool for generating accurate surveys from data captured from flights with UAVs.
Leica DISTO S910
The Leica DISTO™ S910 is the World's first laser distance meter with the revolutionary P2P Technology, and it captures measurements in CAD format (DXF).
Pix4Dmapper
Pix4Dmapper software enables you to convert photos taken with a UAV into point clouds, process the imagery to create orthomosaics and digital terrain models, and export the processed files to Analist 2017 for further analysis.
One UAV, Many Uses!
We have devised a complete solution including a professional DJI Phantom 4 UAV with its powerful onboard camera, plus our proprietary b-mobile VUE kit, a FLIR VUE Pro 640 IR camera, and the necessary software to process the acquired images.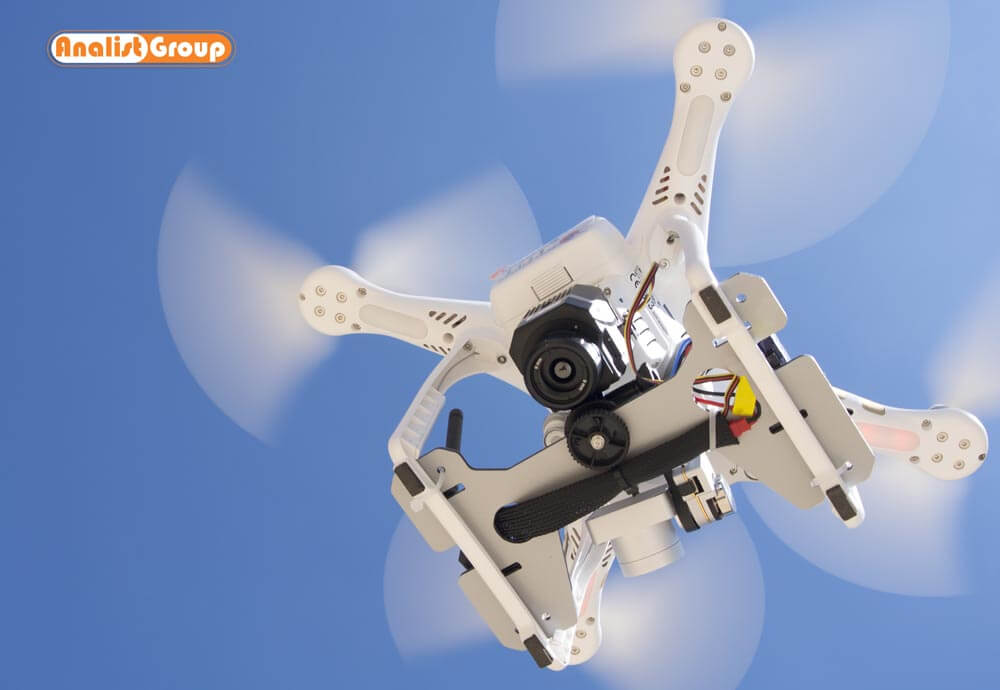 The Complete Solution for a professional thermographic drone platform using a Phantom 2, 3, or 4.
The b-mobile VUE kit is the most affordable and versatile tool on the market. This kit enables you to seamlessly integrate the DJI Phantom UAV and the FLIR VUE Pro 640 Thermal camera.
This solution allows you to keep the original camera and gimbal that comes with the Phantom (and not void the factory warranty), while adding the professional power of the FLIR VUE Pro 640 camera. Use our innovative solution to perform search and rescue, protection, safety and security operations, firefighting applications.
This solution provides you with most affordable professional IR solution for the DJI Phantom 2, 3, or 4.
This Complete Solution includes:
DJI Phantom 4 UAV
b-mobile VUE mount
FLIR VUE Pro 640
Monitor for data transmission
TURNKEY UAS SOLUTION
Have your own drone? No problem, we also offer the most advanced software and associated training for analyzing data captured by the IR, RGB, or multispectral cameras.
Contact us today for more information702-879-9100 or info@gradd.co

Our Turnkey Law Enforcement Solution Includes:

DJI Phantom 4
3 Extra Batteries
Professional Case
FLIR VUE Pro 640
b-mobile VUE Kit
Leica DISTO S910 Pro Kit
Professional Training
1 Year License of Analist 2017
1 Year License of Pix4Dmapper
Contact us today for more information
702-879-9100 or info@gradd.co