The Topographic Software for 2D, 3D Land Surveying and 3D Digital Terrain Modeling. It imports data from Total Stations, Land Survey GPS, Lidar, UAV or any other existing collecting data device.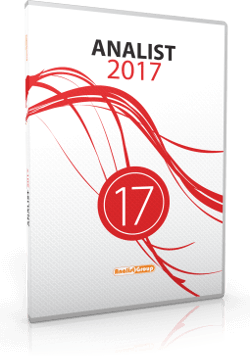 ANALIST 2017
Land Survey Software
Request more information about Analist 2017!


Analist Group is Official Partner to Autodesk.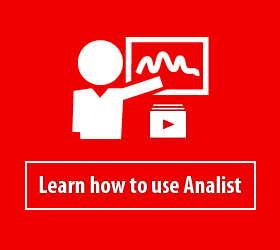 Topographic

 Survey Software 

based on

 the 

Autodesk Technology
Analist is a CAD based on the AutoCAD technology it therefore has all the advantages of the Autodesk graphical setting and functions. You can also personalize the interface which can based on the latest Autodesk formats. The CAD features are enriched with specific topographic survey functions.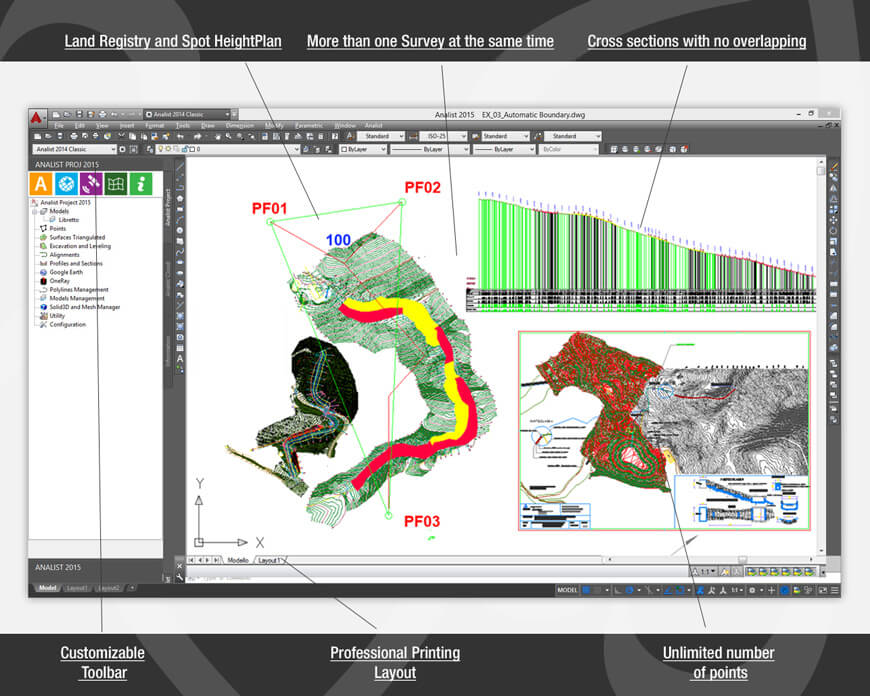 Work on your prospects directly in the Point Cloud
Produce Professional Printable maps.
The new Technology based on the Point Cloud from aerial imagery (DRONE) opens up to great new opportunities in terms of execution speed and result accuracy. Whether you are interested in a Building Front estimation or whether you want to trace Cross Sections or Terrain Prospects, now , Analist Cloud enables you to work at the highest speed with the highest level of accuracy directly on your Point Cloud. Analist CLOUD has been devised to handle huge qunatities of data and for this reason it is the ideal tool for complete management of of the Point Clouds generated following a flight with a DRONE, Laser scanner or other instrumentation with Pix4Dmapper or Autodesk Recap. With Analist CLOUD you can also produce professional Print Layouts which automatically update every time you edit your Project. Power and aesthetics together at last: present your Projects like never before.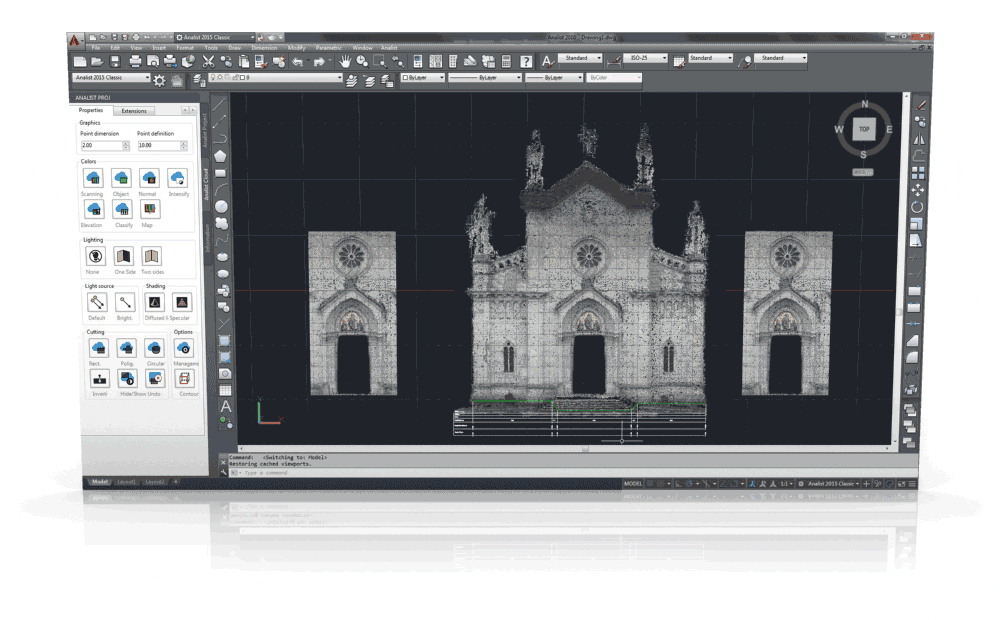 Analist Survey Software Topographic Functions
Coordinates Transformation
Survey Data Management
Digital Land Modelling
Digital Elevation Modelling
Contour Lines
Cross Sections and Profiles
Map Importation from Google Earth
Point Clouds
Cut and Landfill
Cadastral Maps Georeferencing
DWG and Imagines export on Google Earth
Garmin Surveying (Tracker)
And much more…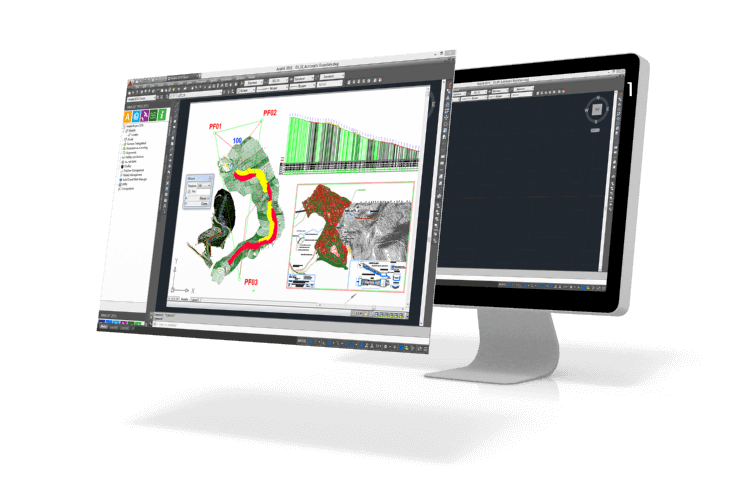 Topographic Software for Land Surveyors
Analist is the complete Topographic Land Survey Software which enables you to handle Survey and GPS data. With just a few clicks you'll be able to insert control points, contour lines, points from graphics. And not only: you'll be able to import data from all the most widespread topographic instrumentation, total stations as well as GPS for the survey processing.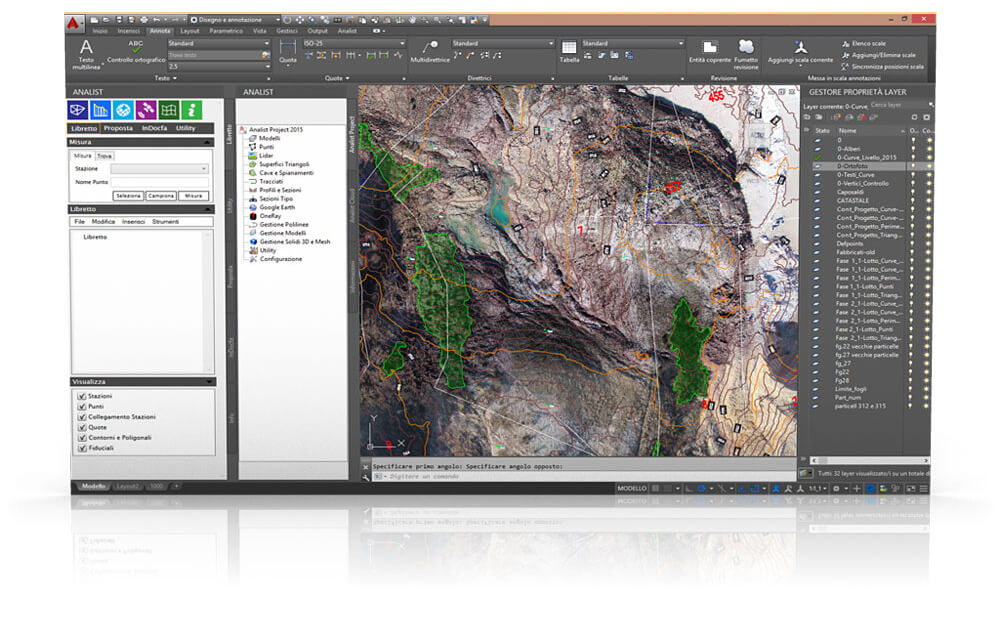 Import all the data you want
Total Stations, GPS, Google Earth, DRONES….
Analist imports all data obtained from Total Stations, Land Survey GPS, DRONES, LIDAR and it is even able to import data directly from Google Earth. In addition to these, Analist can import projects created with other softwares. Unleash your imagination: you'll be able to perform the unthinkable… And what's more, working with imported data has never been so simple and immediate. Still don't believe it? Check it out!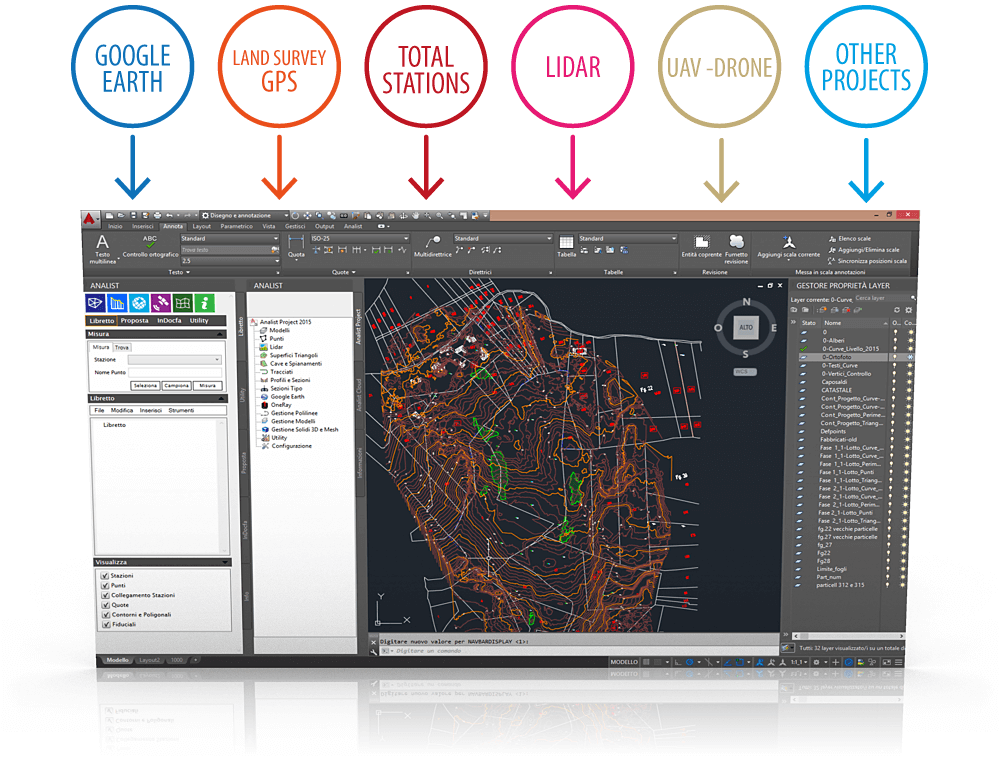 Digital Terrain Models (DTM)
Simply Spectacular.
Start using a high performing Software. Take Digital Terrain Models (DTM) management to the next level with Analist. Analist is the only software which grants endless possibilities with a fast workflow like never before. With the Autodesk technology based CAD included in Analist, you will at last be able to work the fastest, the most professionally and the most accurately ever.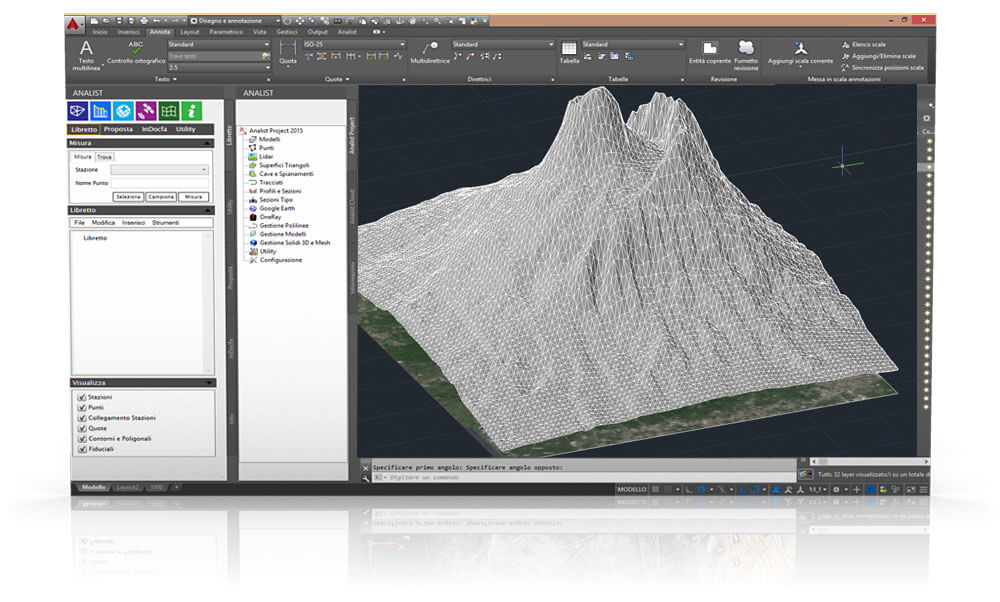 Ready for 3D Printers
New horizons, new Business opportunities!
Have you ever thought of using a 3D Printer? New Analist 2017 is ready to be used with 3D Printers! Creating digital topographic models suitable for 3D Printers will be most simple. You can now also offer your customers 3D Models: they will be elated!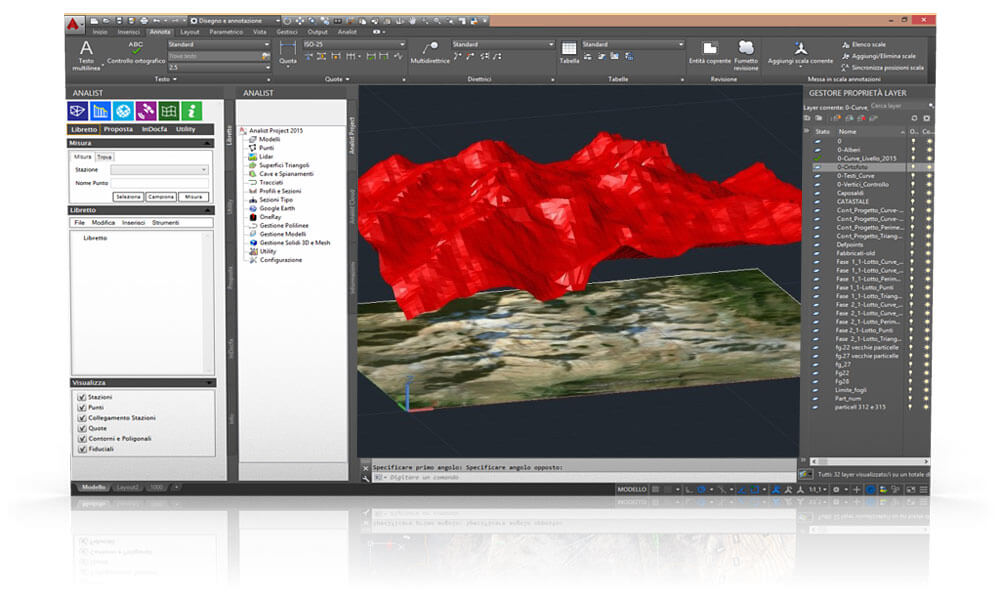 What can you do with Analist?
With

Analist

 you'll be able to 

create

 cross sections, 

with

a simple click.

Starting from a

topographic survey

or a Google Earth digital model you can obtain 

perfect drawings of

 

Longitudinal Profiles

of the

land

.

The creation of

3D

surfaces

has never been

 so easy

and intuitive.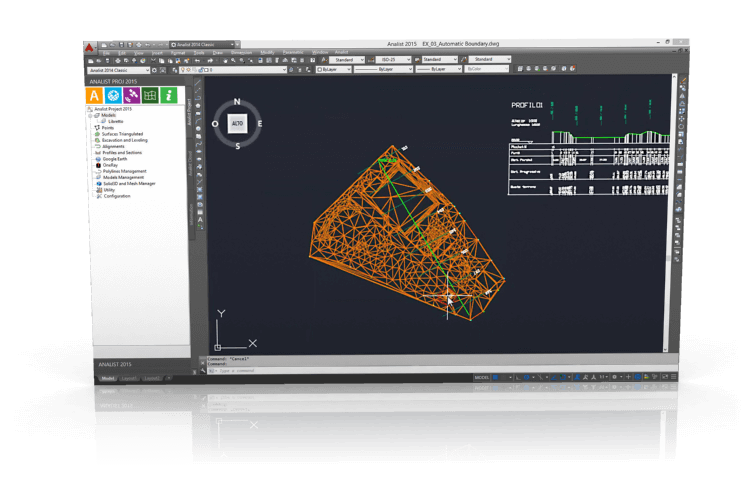 AgroSENSE: advanced multi-spectral analysis
Immediate NDVI for prompt corrective actions.
AgroSENSE is the new Analist 2017 CLOUD module that responds to the need for immediate feedback from the field. The response is immediate for the farmer to take action. AgroSENSE provides the NDVI index and automatically generates the Professional Report with a grid with the information on: the analyzed zones, suspicious situations together with the identification of the problematic areas. It is colour coded, clear, simple and immediate.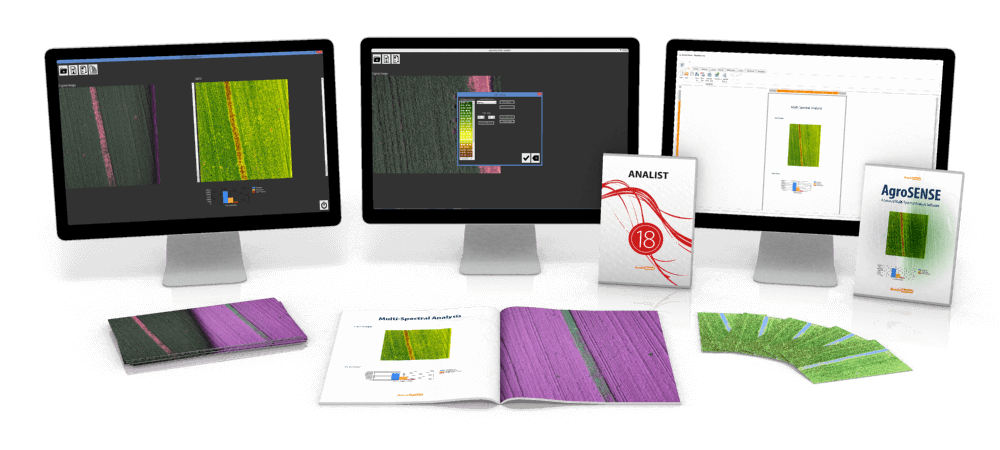 Angles, Areas and Distance measurements in the Point Cloud
New Analist CLOUD Explorer
With the new Analist CLOUD Explorer, in addition to visualizing a Point Cloud in a LAS file format it is now possible to carry out distance, angles and areas measurements extremely easily and accurately. Analist CLOUD Explorer allows you to scale your Point Cloud (.LAS) by simply identifying and providing one measurement only. Thus it is possible to carry out the measurements you wish directly in the Point Cloud.
Analist CLOUD Explorer is the newest function included in Analist 2017 CLOUD.
Read the BLOG article ►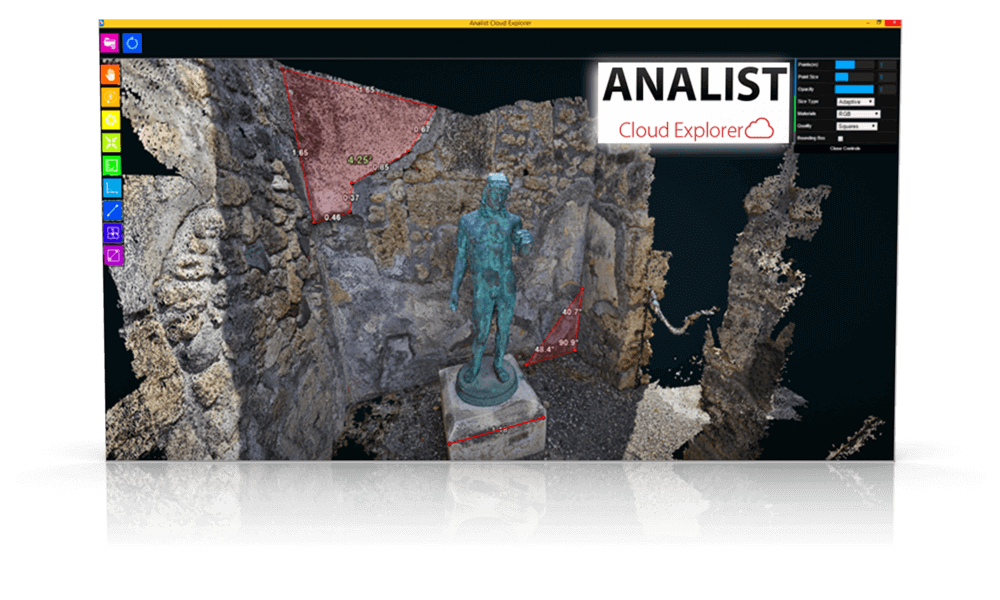 From Land Modelling to Topographic Mapping
Geodetic Transformation, Digital Elevation modelling, Cross Sections, Land Modelling and more.

Coordinate converter.
Analist is the ideal topographic Software for all professionals managing surveys in different coordinate systems such as WGS84, UTM, Cassini Soldner, Gauss Boaga and Rectangular Coordinates, GPS coordinate converter.

High Quality Survey Project.
With Analist your survey will be of the highest quality. It will be extremely simple to insert contours lines, breaklines and contours to create surfaces. The calculation of cross sections with Analist has never been so simple. Starting from a topographic survey or digital Google Earth model you can obtain, with a simple polyline, the horizontal alignment from which you can extract, with one simple click, the Longitudinal Profile of land and of the project.

Perfect Land Modelling. Also in inaccessible areas.
Analist generates triangle models and contour lines with just a few clicks even using GIB data. All results can be exported in OneRay-RT (rendering and environmental impact software) for 3D visualization. In inaccessible areas, you can directly import the contour plan and the DTM of the interested area. You can also create automatic leveling.
Unique Functions
| | |
| --- | --- |
| Analist most important features | Analist 2017 |
|   | |
| | |
| CAD integrated | |
| Integrated CAD Autodesk licensed | |
| | |
| Topography and Land Registry | |
| Importation data from GPS and Celerimetric Instrumentation | |
| Celerimetric, GPS and mixed survey management | |
| Alignment angles measures management | |
| Control Points Management | |
| Graphic Stations Insertion | |
| Measurement creation on existing stations | |
| Survey Points editing/insertion | |
| Topographic points management advanced functions | |
| Linked Codes automatic creation | |
| Codes and Symbols description | |
| Rototraslation of Survey on Control Points | |
| Advanced Coordinate Creation | |
| Coordinate transformation in different geographic systems | |
| | |
| Topographic Planning | |
| Surface creation | |
| TIIN Models Management | |
| Contour Lines Creation | |
| Advanced Functions for Contour Lines Management | |
| TIIN extracting models | |
| Exportation for OneRay-RT | |
| Models Union | |
| Point Importation from ASCII files | |
| Contour Lines Extraction | |
| Ground longitudinal profile automatic drawing | |
| Cross section development | |
| Sections project design | |
| Automatic or manual section positioning on profiles | |
| Cross Section Dynamic Viewing | |
| Topographic Profiles Management: calculation, design and dimension | |
| Surface Section design: TIIN models, points, etc | |
| Volumes calculation among models | |
| Cross sections management | |
| Cross Section design | |
| Automatic Pit Creation | |
| Automatic Terraced Surface Creation | |
| Importation Land model from Google Earth | |
| Block Sections automatic insertion | |
| Cross sections design | |
| Geometric Leveling | |
| | |
| Georeferencing Cadastral Maps (MasterMap) | |
| Cadastral Maps Insertion | |
| Insertion of 3 or more Control points of real coordinates | |
| Barycentric georeferencing with margins obtained report | |
| | |
| Google Earth Images or DWG exportation (Remap) | |
| Survey Maps Visualizing | |
| DWG exportation on Google Earth | |
| Survey Maps or DWG georeferencing on Google Earth | |
| KMZ file creation | |
| GPX (Garmin) file creation | |
| Gauss Boaga, UTM and Cassini Soldner coordinates exportation on Google Earth | |
| | |
| Real Time notice of surveys carried out with Satellite Navigation System (Tracker) | |
| Georeferencing maps on Garmin | |
| 'Coordinates capture' functions for calculating and saving all Maps coordinates | |
Analist versions
More Power to you.
Analist and the majesty of the Autodesk CAD available to you in 3 versions: Analist 2017, Analist 2017 CLOUD and Analist for AutoCAD. Choose the best Solution for your requirements. Start working on your projects most efficiently and professionally.

Analist 2017
Land Survey Standalone Autodesk based technology Software.

Analist 2017 CLOUD
Land Survey standalone Software with the Point Clouds importation and management. Autodesk technology CAD inside.

Analist for AutoCAD
Land Survey Add-on Software for Autodesk AutoCAD. It requires Autodesk AutoCAD. Available for AutoCAD 2011, 2012, 2013, 2014, 2015, 2016 and 2017 versions.
Technical Support
   Phone and Remote Assistance.

Updates and Technical Support
All up-to-date versions are free for the 12 months after purchase.
One year phone or remote computer technical assistance is FREE and included in the software!

OS Requirements
OS: Windows Vista 64 bit, Seven 64 bit, Windows 8 64 bit, Windows 10
Processor: Intel Pentium IV, AMD Athlon XP or superior
RAM: 2 GB or superior
CD-ROM reader and mouse
Microsoft Internet Explorer 7.0 or superior.